Well, friends. What a GREAT Thanksgiving we had this year! Billy and I had the privilege of hosting some of our fabulous friends for an incredible feast. Everyone brought their favorite Thanksgiving dishes, and it was great to experience some of the flavors of Thanksgiving from different parts of the country. Here's who was there & where they're from:
Jeremiah & Lindsay-- California
Kevin & Rebecca & daughter Cavender-- Georgia
Lamech & Ann Marie -- Pennsylvania
Scott & Carissa -- Nebraska
And the Lawsons-- Texas, of course
So there you have it-- we had some Thanksgiving dishes I had never seen before, and it was so much fun. We had GREAT desserts, too-- a pumpkin pie (delish!), pumpkin cheesecake brownies (delish!), a pumpkin roll (yum!), and a pecan pie (yum!).
So... though we missed our families this year, we certainly enjoyed a great day with our "family" here. Here are some pictures from the day: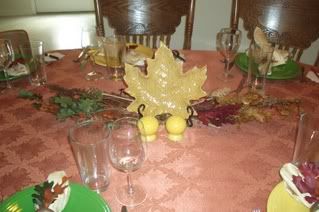 Billy's beautiful centerpiece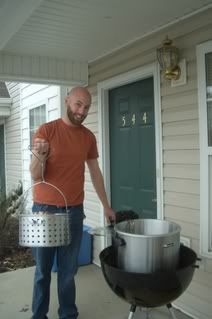 Billy getting ready to put the turkey in the fryer!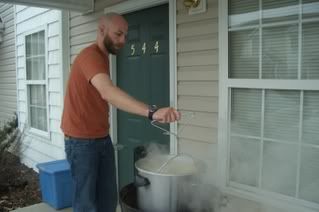 There it goes!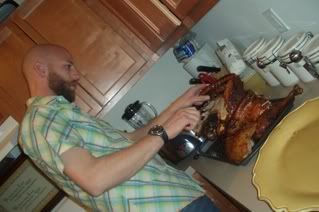 Billy carves the turkey (YUM!)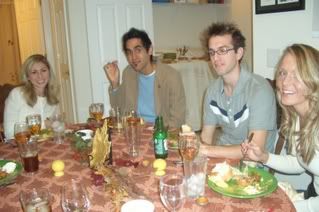 Feasting on fabulous food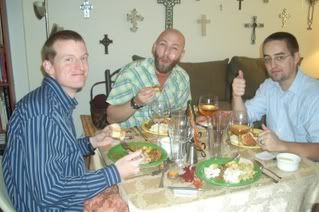 Still eating...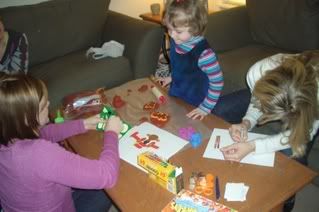 Carissa, Cavender, and Lindsay playing with pumpkin pie play-doh!