Together with my friend Brian, I head up the Asbury Texas Fellowship group. What that basically means is that once each semester, Brian and I organize an event/party for all of the students, faculty, and staff at here at Asbury Seminary that are from Texas, or have some connection to the Lone Star State. There's more of us than you might think. We get together, hang out, eat, and generally enjoy one another's company. Somehow, being with other folks from our great home state, makes us miss home a little bit less. We have a good time.
Tomorrow is our Fall 2007 Texas Fellowship Party. We're getting together out at Icthus Farm in Wilmore, for a disc golf tournament and pot luck dinner. Everyone has been asked to bring their favorite Texas dish to share. I was going to make my famous enchiladas. But then I thought, "Those aren't really transportable. I have to show up early to set up, and how will I keep them hot?"
And then I thought of a wedding gift I received 3 and a half years ago. A gift that has only been used once, and a gift that Billy has threatened to throw away several times, due to the infrequency of it's use. My cake decorating kit!
What you also need to know is that today I received in the mail, from my friend Katy (the former Asbury Texas Fellowship Coordinator), a box of Texas goodies for use at our Texas parties. Included in that box was a cake pan in the shape of Texas! Oh, this was meant to be.
I'm no Martha Stewart, so don't laugh. But this is what I made instead. I'm pretty proud: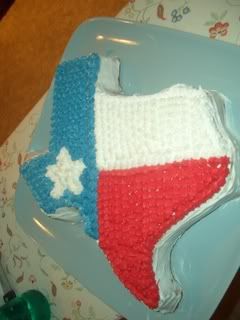 The finished product
In progress: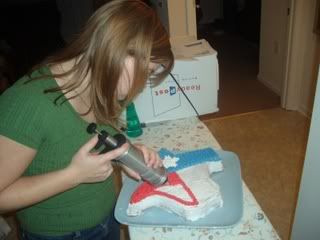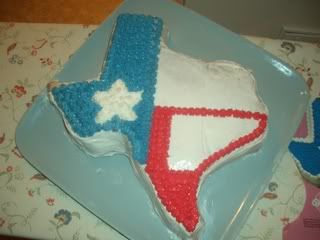 Now, as awesome as this cake is, I have to admit that I'm a little nervous about eating all of that icing. I mean, I may as well drill the cavities directly in to my teeth now and skip the cake altogether. Oh well, I'm sure it will be well worth it.