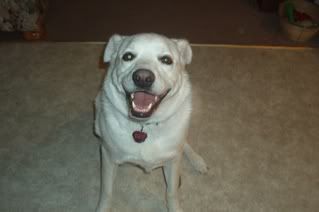 Growing up, we were never a "dog family". We had a dog once, when I was a young child. Her name was Snoopy and she was really my brother's dog. One morning when I was about 5, we went outside to feed her, and she had died. I can still see my brother crying and saying, "Snoopy, don't go. Don't leave us." It was pretty sad.
We didn't get another dog until I was about 14, when my little sister, on her 5th birthday, got a dog and named him Max. Now, as anybody knows, a 5 year old isn't going to be the best owner for a dog. Poor Max never got any attention. Max was a sheltie and was quite beautiful, but as beautiful as he was, he was often ignored. Finally, for the good of the dog, we sent Max to live out in the country at the home of some family friends. About 2 years later, in a tragic accident, Max was run over by the Postman and died.
Billy on the other hand, had a dog while he was growing up. His name was Chestnut and was a gift to Billy on his 6th birthday. Chestnut was as much a part of the family as any outside dog could be. About a week after Billy left for college, Chestnut died. Probably of a broken heart.
All through college, while Billy and I were dating, Billy often dreamed about getting another dog. He LOVES dogs, and I remember how sad he was when he had found the perfect dog in college, but realized he couldn't keep her afterall. He had named her Harley because of his fascination with Harley-Davidson motorcycles.
Enter Riley. Billy and I got married in January of 2004, and about 6 months later, we adopted our sweet Riley. It was really Billy's idea and I decided to go along with it. When we adopted our dog from the
East Lake Pet Orphanage
, a no-kill shelter in Dallas, her name was Athena. We very quickly changed her name to Riley because that name just sort of seemed to fit her and it seemed to fit us. Over the years, I have grown to love Riley more than I ever thought I could love any animal. And to watch the way Billy loves this dog... well, it's quite amazing. Riley has truly become a part of our little family. And so now, I can confidently call ourselves a "dog family". We are "dog people". I never thought I would be, but well... here I am. Riley's mom. I find myself talking about her and bragging about our 'angel dog' all of the time. Call me crazy.
So. Riley. She's a part of the family... but how part of the family should she be? You see, we've just found out that Riley needs surgery. She's got a torn ACL that needs to be repaired. She limps a little, but otherwise seems fine. She doesn't cry about it much, unless she's playing really hard. As you can imagine, surgery to repair a torn ACL isn't an inexpensive ordeal. No, it's quite expensive, and so the question I ask, "How much is this dog worth?" I keep struggling because I often think, "Okay, she's just a dog." But to me, REALLY, she's not "just a dog". She's Riley. She's ours. But isn't it a little crazy to go to the same lengths for Riley that I might go for an actual child? What are your thoughts?
Just so you know, we're having the surgery. To us, she's worth it. Yes, she could live the rest of her life without the surgery and probably be fine. She'd be
fine
, but not
great
. She'd limp, and she'd hurt, but she'd live. However, Riley is only 3 years old. And she's a herding dog. Running and agility is sort of her "thing". If she were older, then we might consider doing without the surgery, but at this point in her life, it seems unfair not to do it.
I don't know. What is a dog really worth to you? Some people laugh when I tell them she's having surgery and say, "It's just a dog." Others say, "Oh, we would do it, too." And others say, "Well, we sort of have a price limit of what we would spend on any one procedure."
Thoughts? I'll leave you with a picture of Riley eating her Frosty Paws ice cream. That might help you formulate your thoughts. Ha!!