Well, we had a fun Sunday of "gardening". Let me explain. We live in an apartment, so there's really not a lot of space for us to garden. But about 2 weeks ago, we inherited 12 tomato plants and a whole bunch of seeds of various types-- flowers, vegetables, herbs, etc. We had initially planted our tomato plants in a big rubbermaid tub filled with potting soil, but we quickly had a forest of tomatoes in the tub, so we knew they wouldn't last much longer that way. We gave away half of the plants, and then wondered what to do about the remaining 6 plants.
Here's what we came up with. A tomato garden outside our back door. We realize the plants might not make it, but hey-- if they don't, they were free. No big loss. And we can always try again another time. We dug up dirt, mixed in organic potting soil, and planted our little tomato plants. We've still got to get cages for them, and the soil still needs a little bit of attention, but here it is: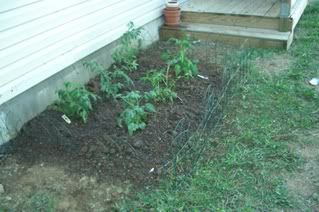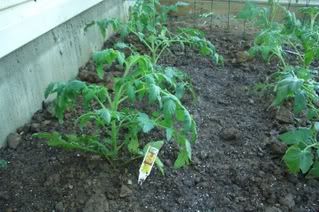 So. Tomatoes were planted, and in a few weeks, we will hopefully enjoy their delicious goodness. But my FAVORITE part of our gardening extravaganza yesterday was the planting of my herb "garden". It's not really a garden, but I think it will work just fine. Here it is: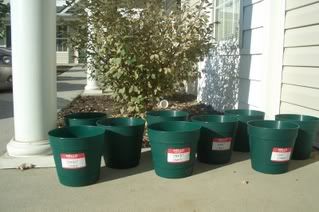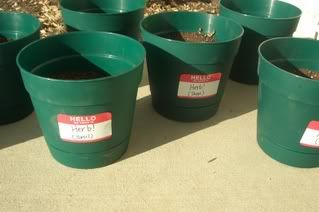 I'll let you know how everything turns out. It could be a disaster. We'll see.