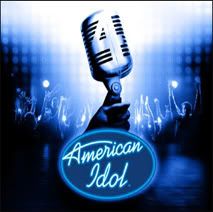 We have been following American Idol this season. This is actually the first season ever that Billy or myself has followed this show, and it turns out it's pretty interesting. We started watching initially so that we could have another excuse to hang with our friends. And now we look forward to Tuesday nights almost as much as we look forward to the Thursday night episode of "The Office" -- not just because we are hanging out with our friends, but because we want to see just who is going to "bring it" on American Idol.
So here's the deal. Tonight, at Jason & Dana's (where we watch Idol each week), we made our American Idol predictions. We listed the order in which the contestants would be voted off, all the way to predicting the big winner. We wrote them in ink and hung them on the wall, where they will stay until the winner is revealed. No changes can be made to our lists. I had to make some difficult decisions, but here are my predictions (#11 is who I think will be the next to go. It works its way up from there):
#11: Sanjaya (hopefully, though I fear I'll be proven wrong tomorrow night)
#10: Phil
#9: Stephanie
#8: Haley
#7: Chris S.
#6: Gina
#5: Chris R.
#4: Lakisha
#3: Jordin
#2: Melinda
Winner: Blake
We'll see what happens! There are 7 of us that made predictions tonight, and they are all over the board. However, the majority of us have picked Blake to be the big winner.